Planning your next yoga vacation?
In our program you will find the best yoga retreats, golden sandy beaches, warm sun all year round, wonderful vinyasas or revitalizing massages.
A yoga retreat is a wonderful occasion to renew body, mind and soul. It allows you to rediscover yourself and connect with new energies, positivity and inner peace. Take advantage of this sacred space to relax your body and mind with meditation practice, enjoy yoga classes and nature walks. You can also go deeper into talks in a relaxed and positive environment.
Our retreats are recommended for all levels of practice.
Take a break, breathe and reconnect. Recharge yourself with energy and improve your physical and mental health.
We offer you a program designed to immerse you in the experience of inner retreat, beyond the mind and emotions. Enter a paradise of calm and natural beauty, where you can practice yoga and meditation daily and develop awareness of the here and now.
Yoga retreats are a conscious vacation designed to help us get rid of exhaustion, stress and connect with ourselves through ancient practices that allow us to achieve deep relaxation and recharge with vital energy. A profound and transformative experience of the practice of Yoga, connecting with our true nature.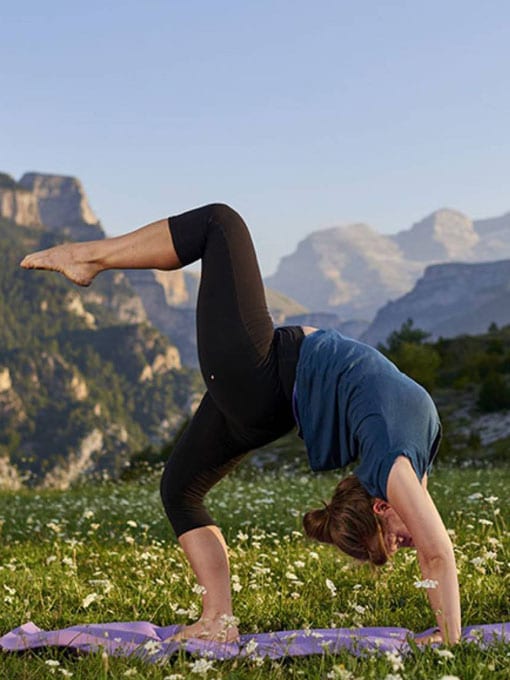 What will you find in our Yoga Retreats?
In addition to immersing yourself in the ancient wisdom of yoga, you will enjoy walks and meditative excursions to connect with your feelings and your essence, finding your right pace and your own rhythm. This type of meditation in movement allows you to pay attention to the action of walking and everything that physically involves: movements, breathing, sensations from a subtle and silent perspective. Opening you to feel everything that happens inside and outside.
What does it include?
Yoga: We will indulge in an ancient practice focused on conscious deepening in asanas, pranayamas, mantra chants and meditation.
Meditation: we teach classes suitable for all levels of practice, whether you have just started, or if you want to deepen your meditation practice, our classes are suitable for you. You will also have time for one-on-one consultations, where you can solve personal doubts and questions about your practice.
Satsang: it is a meeting time with a time of expression and inquiry, questions and answers based on the experience of the participants. This is followed by a practice of a meditative session that may include mantra chanting, sonotherapy sessions or silent meditations.
Double silence: Recovering the tradition of the vipassana of Noble Silence, we have converted this concept into Double Silence referring to silent practice at the level. Internal and External. Every day we cultivate a space of joyful silence. This deep silence is very healing to calm the mind and be at peace with ourselves, developing attentive listening. It helps us to have a more restful sleep and the next day we will enjoy greater mental clarity to immerse ourselves in the practice of asanas or meditation. By participating in this period of silence we support each other in practice, and it allows us to discover new ways of relating so that when we enter the word we will do so more consciously. open to deeper listening and allowing us to connect and get to know each other more authentically.
Healthy and conscious nutrition: You will enjoy a wonderful and healthy vegetarian cuisine, cooked from meditative practice.

No events available.