If you owe yourself a vacation, a Yoga retreat in Alicante is your ideal gift: lots of sun, blue beaches, golden sand, Mediterranean cuisine and the possibility of immersing yourself in the practice of yoga, as a beginner or advanced yogini / yogi with expert teachers. A recharge to connect and come back feeling happy, positive and ready to face any challenge.
Alicante is an authentic jewel of the Mediterranean with direct flights to the main European cities and an exceptional climate. Although it is known for its festivities and excitement, it is also known for its mystical energy, which is attributed to the telluric energy that this point of the Iberian peninsula has. In addition to having many sunny days, it has beautiful beaches of different types: sand, rock, rocks. Very close to our retirement home you can enjoy yoga practice on a wild beach with golden sand, surrounded by freshwater salt flats where pink flamingos calmly rest and merge with the sunsets.
During the retreat you will enjoy the morning yoga practice in front of the sea, with the first rays of the sun and breathing the fresh Mediterranean air. Excursions and meditation in natural caves, outdoor dinners, delicious homemade vegetarian dishes in our farmhouse and picnics in one of the most spectacular enclaves in the province and enjoying the company of great people delight our retreats. Your body and mind will thank you for it.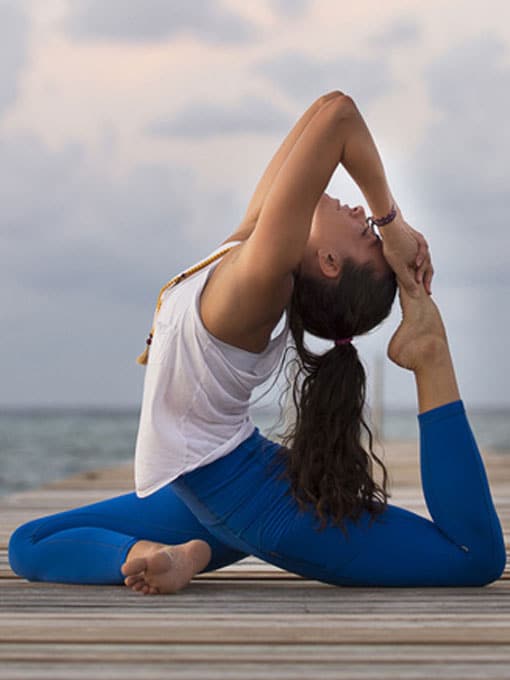 WHAT WILL YOU FIND IN OUR YOGA RETREATS?
We live to create extraordinary experiences. We share what we love. We inspire the best in you.
We live to create extraordinary experiences. We share what we love. We inspire the best of you.
In our Yoga retreats in Alicante different tools are combined: moments of absolute silence, meditation, activities in nature, group dynamics and wonderful live music.
We build to each detail an experience of rest and relaxation, mental and body. A gift of enjoyment, self-knowledge, fun and personal pleasure.
Yoga retreats in Alicante are a delight to enjoy the Mediterranean spirit, and they bring to your life the extra energy you need to transform it into a more pleasant and fulfilling existence.
Immerse yourself in a few days in the heart of Alicante, come on a journey to the senses, and enjoy interiorizing in mental peace and fluidity. We offer you a break, a healthy break to build a before and after in your life.
Why participate in a yoga retreat?
Who am I? What do I want? What really happens around me? How do I perceive it and feel it? Let a comforting feeling help you with the answers to join a path of peace and harmony with yourself.
In the search to find yourself, you need to be willing to delve into a state of meditation and inner observation. This internal attitude fosters a more harmonious encounter with your true SELF – the natural emergence of consciousness. Our retreats provide you with the conditions to be in a suitable place, with a tranquil atmosphere of introspection.
How can we help you?
Our yoga retreats in Alicante include moments of directed meditation, in addition to guiding you in gaining a deeper knowledge of the practice:
Physical postures (asana): each of the various body postures with the goal of acting on the body and the mind. They provide you with lightness and strength, in addition to flexibility, endurance and health. The body is conquered via the asanas, which turn it into an appropriate vehicle for the spirit.
Breathing techniques (pranayama): Prana is a single Sanskrit word that means breathing, life and cosmic energy. Yama can be translated as 'restriction'. Pranayama helps you know and control your breathing through breathing exercises, so that your prana – life force – flows in a specific way throughout the body.
Liberate yourself from your thoughts and achieve your state of 'infinite peace'. Discover the power within with one of our yoga retreats in Alicante.