YOGA, SEA, SUN AND MOUNTAINS
Are you looking for yoga retreats in Spain? We're your best choice!
If you are a yoga practitioner, nothing beats spending your holidays practicing your favourite activity and getting to know amazing people who shares your passion.
The yoga retreats in Spain by Libremocion are the perfect choice for those who want holidays that include a yoga programme at a site with privileged surroundings and climate, in addition to being a strategic location with an international airport. We offer a variety of programmes with different practices that include Hatha, Ashtanga, Kundalini, Integral, Kriya, Vinyasa and Yin Yoga – all of them imparted with a spiritual commitment and the most sacred of inspirations. In addition to these uplifting practices, you will enjoy wonderful workshops in nature, revelling in your connection with the Mediterranean Sea, our sunny, warm climate, conscious walks in nature and delicious vegetarian menus to nourish yourself as you delve deeper into your yoga practice. What more could you ask?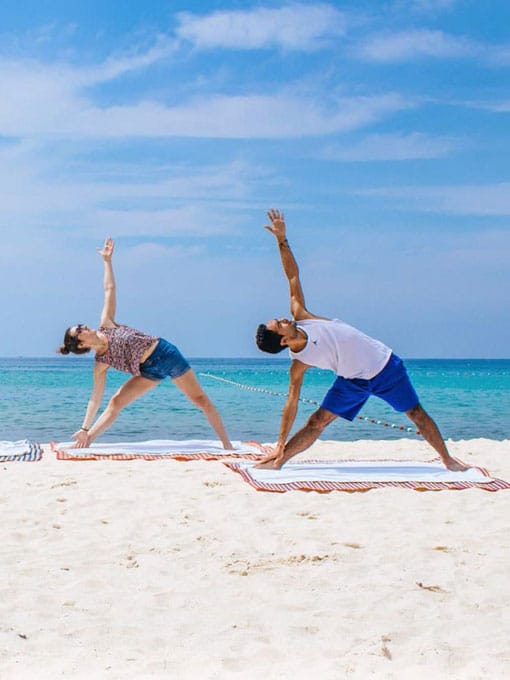 WHY SHOULD YOU PARTICIPATE OF A YOGA RETREAT IN SPAIN?
We live to create extraordinary experiences. We share what we love. We inspire the best in you.
Spain is joy, sun, blue seas and thousands of kilometres of golden sands. Its cheerful people, combined with its exquisite gastronomy and fantastic climate make it a unique destination, in addition to being extremely accessible in regard to geographic location and affordable prices.
There are retreats available in a myriad of regions in Spain, with a huge climate and landscape diversity. If you are looking for a retreat in a privileged location where you can enjoy the magic of nature but also visit castles and get to know charming Mediterranean villages while enjoying its fantastic gastronomy, then you will love our proposal. Do you prefer the beach of the mountains? You won't need to choose one or the other! Our retreats combine the best of both worlds, since they let you enjoy golden sands, a warm climate year-round, a spectacular number of sunny days, and our mountains and its charming villages.
In addition, our services are available in several languages and are completely personalised, since we work with small groups.
What is so special about this place?
Alicante is our most important location and a true Mediterranean jewel. Every part of it oozes vitality: its blue sea, its untiring radiant sun, its villages, its people. We believe that combining its beauty with the benefits of practising yoga is a fantastic way to breathe in nature, share experiences, take care of your body, explore the surroundings and educate your sight.
Our retreats are places that are thoroughly dedicated to the practice of yoga; they are the perfect place for those willing to dive deep into yoga during their holidays. The goal is to use yoga as a relaxing and healing practice, helping you find inner peace while improving your practice. Our proposal is perfect for those who need to escape their daily routine for a while and simply enjoy the restoring benefits of yoga under the guidance of a true expert.
Healthy holidays among the beauty of the spiritual practice and the benefits provided by the sea and the sun, in the company of a staff that works eagerly, are some of the things that make our retreats a unique experience.
What do our yoga retreats include?
You will enjoy wonderful yoga and meditation sessions in nature, allowing yourself to get carried away by the sweet rumble of the sea waves; you will enjoy watching flamingos in freedom in natural lakes and lose yourself in the meditational hikes across Mediterranean forests.
The breakfasts, meals and dinners consist of a flexitarian diet inspired in Mediterranean cuisine, cooked with local seasonal products from sustainable vegetable gardens. On excursion days, we will take our own picnic with us or take the opportunity to enjoy the traditional Mediterranean gastronomy at some restaurant with wonderful views of our beloved sea.
If you want to enjoy your yoga retreat in Spain, our proposal is perfect for you, since our coastal city has wonderful mountains and remnants from medieval times.
What's included:
Comfortable accommodations in a gorgeous green building
Nutritional & healthy vegetarian meals prepared with products from local shops and our own vegetable garden
Wonderful daily yoga sessions led by our experienced and caring teachers
Daily meditation sessions to increase your relaxation and connection with your inner self.
Meditational activities and walks in nature enjoying our unique location
If you want more information about any of our retreats just get in touch with us!