YOGA WITH MEDITERRANEAN FLAVOR
Do you want to forget about stress, and at the same time do it with a fun plan, in good company and with benefits for your physical and mental health? Join our Yoga holidays in Spain!
Alicante is a beautiful Mediterranean city with hundreds of kilometers of blue beaches, an average of 19º annually and 300 days of sunshine a year. It is fantastically connected to the main European cities with low cost flights, thanks to its airport that manages the spectacular figure of 14 million passengers per year. An excellent option to travel quickly at a very affordable cost and enjoy a yoga holiday in Mediterranean Spain.
In our retreats you will find a fantastic combination of morning yoga practices with expert teachers, enjoying the practice in front of the sea, sinking your feet in the golden sand, breathing the fresh sea air and warming your body with the first rays of the sun. You can relax with the evening meditations with live music. You will discover the most beautiful corners of Alicante with picnics in nature and a visit to natural caves in the sea. You will be nourished with delicious homemade organic vegetarian food and you can immerse yourself in the Mediterranean gastronomic culture on our excursion. A dinner under the stars and a good rest in the cozy bio-built farmhouse are the finishing touch and our plan is absolutely irresistible.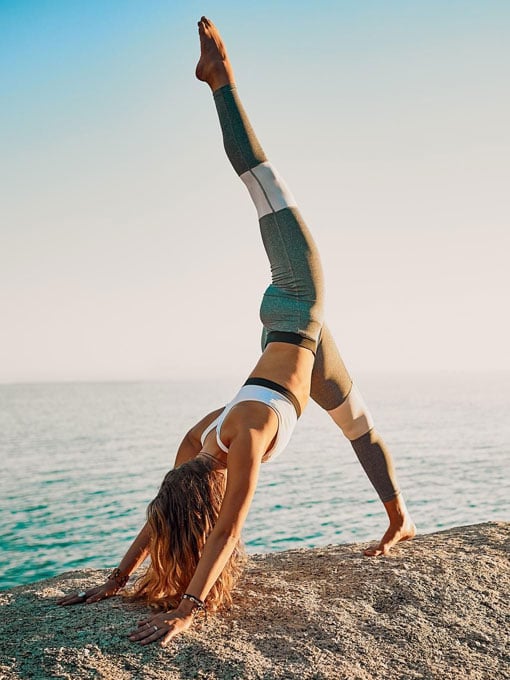 WHAT WILL YOU FIND IN OUR YOGA HOLIDAYS?
In our yoga holidays different tools are combined: moments of absolute silence, meditation, activities in nature, group dynamics and wonderful live music.
We live to create extraordinary experiences. We share what we love and inspire the best of you. Each experience is taken care of in detail so that it is an authentic present of enjoyment, fun, reconnection and sensory pleasure.
Our yoga holidays in Spain are a true delight to enjoy the Mediterranean spirit, and they bring that pause to your life so that you can attend and fill yourself with energy to return to your routine full of happiness, wonderful memories and energized energy.
Come on a pleasure trip for your senses, and enjoy the calm of the Mediterranean environment, the warm climate and the wonderful restorative energy of the sea. A sunny break full of good vibes and the wonderful transforming power of the ancient yoga practice.
About the yoga programme
You will enjoy a morning practice with experienced teachers, as well as pranayama workshops throughout the day.
The program is suitable for everyone. In the morning we enjoy the connection with nature on a wild beach with golden sand, we delve into therapeutic yoga practices. We mobilize the spine, we build the correct work of the joints and muscles, and we harmonize the physical and emotional state.
In the afternoon we will enjoy the practice of meditation and deep relaxation including sound therapy. Through these practices we remove internal tension, expand the limits of perception, unload the psyche and restore balance.
How can we help you
What could be better than getting out of the hustle and bustle of city life and connecting with nature on a deeper level, going back to the roots. We list some benefits of taking a meditative vacation with us:
Disconnection of technologies: Holidays are a great time to disconnect from technology and get back to what's important. Many professions now require 24/7 connection. In an intensive yoga program, we focus on enjoying the present moment and forgetting, at least temporarily, about technology.
Be aware of your state: If you experience stress, feel little strength, irritability, participating in a yoga vacation will help you step aside from those emotions and assess where you are, to get a new perspective on your problems. It is difficult to make awareness or decisions when we are too close to the situation that stresses us. On trips, we get away from problems and our thinking becomes more transparent.
Savor life: In the hustle and bustle of everyday life, it is very difficult to set aside time to be silent and enjoy ourselves. When you are on a yoga vacation, every day is important and has a purpose. You focus on your practice, you relax, you meditate. All the time you dedicate yourself to yourself and your development. Every day you focus on really savoring life.
Spending time with experienced instructors: One of the best benefits of a yogic vacation is that you have the opportunity to deepen and maintain communication with experienced meditators and teachers who can bring you an absolutely new angle to face your daily challenges. This is an excellent opportunity to ask for advice, help improve practice, or correct mistakes.
Improved attention: Meditative and yoga practice tones and balances the mind. Helping us to face certain situations in some cases and at certain times learning to relax or concentrate. On a yoga vacation, you practice concentration daily, which helps calm your flow of mind. Take advantage of this time to turn off the noise of your inner voice and learn to think from another connected state. Here you can practice meditation under the guidance of an instructor and without any distractions.
Setting with a wonderful positive energy: Our retreats are filled with positive energy! You are surrounded by a setting that makes it easier for people to feel positive, and have thoughts and feelings with high-energy vibrations. You don't need to worry about anything; everything is thought out and transparent.
Inner healing: Yoga holidays can be a boost to heal the body and soul. They provide you with a direction in your path toward healing and balanced thoughts and emotions, which usually serve as a pillar to radically change your lifestyle and find new goals.
Overcoming limits or obstacles: We often fear certain things and circumstances, or are simply uncertain about the future. During yoga holidays we are able to face it, look it in the face and get rid of what is hampering us through different techniques or body therapies.
Gaining a deeper knowledge on the practise of yoga: Here, yoga is on schedule every day; you won't be distracted by your everyday activities or work. Even the most experienced yogis can further develop their practice when removed from the daily hustle.
Expanding your awareness: Yoga holidays can offer you a new perspective to grow by getting in touch with a new culture, learning about other people's lifestyles, experiencing new flavours and ways of living, and enriching your world view. You will learn many new things, stories or information that can affect your future choices.
Meeting new friends: The yoga holiday retreats attract people with similar ideas – people who care about their health and wish to develop their inner self. It is the ideal setting to make new friends that will give lots of positive things to your life.
Increasing your knowledge about yoga philosophy: Yoga is not only about performing asanas; it is much deeper than that. Yoga holidays will give you a deeper understanding about the philosophy behind it. The talks and workshops will help you understand the ancient knowledge that this science is based on, and you will be able to perform asanas with a greater awareness of the full benefits of this millennia-old practice.
Quality rest: You know that feeling when you get home from your holidays and feel you need to go right back on holidays? At the yoga retreats you engage in quality rest: a complete immersion into a different lifestyle. After this kind of holiday, you will probably never want to go back to the standard beach holiday packages. When you get back home, you will probably want to find the next trip for your future yogi holidays, to relax and replenish your energy once again!
Come live this wonderful experience with us! Enjoy spectacular yoga holidays in Spain. You can contact us via WhatsApp or fill out the form, and we will address all of your enquiries.