MINDFULNESS RETREATS IN SPAIN
Are you a busy professional? Do you often feel tired, exhausted, or do you feel that your head does not stop?
Do you sometimes feel like you're missing your life? Do you feel like you're not doing something really meaningful with your life? Is this the life you'd choose when you were 18 and felt like you wanted to conquer the world? If any of the above questions resonate with you, it may be the right time to begin a more aligned path with you, which will help you in relaxation and inner peace. It can also help you to balance work and life by finding out what's really important to you.
The mindfulness retreat that we offer is precisely the tool that allows you to contact your emotions and regain control of your life based on what is important to you. In mindfulness retreats in Spain, practices include in addition to traditional mindfulness, a focus on compassion and the practice of silence, so that each person can optimally delve into their own process. It also includes addressing the basic concepts of non-violent communication, which greatly contributes to more fluid, constructive and strengthened interpersonal relationships.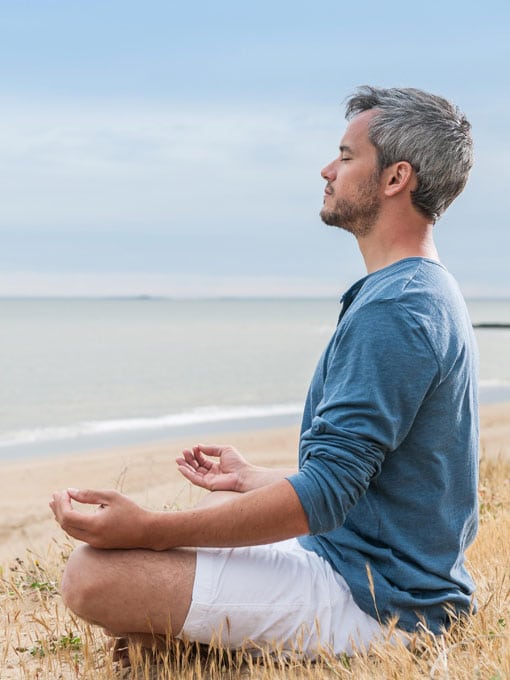 The importance of silence
An important feature of our mindfulness retreats is the silent days. Having a structured practice disconnected, you don't speak with participants and you have all the space and time to be with yourself. I speak before the meditation sessions. You also have a conversation with me several times during those days.
By literally taking a week out of normal life, being disconnected, calm, and in no hurry, you get a better look at what's important at this point in your life. With this you support your inner peace, health and energy.
In addition to the afternoon program, there is enough time to take naps, walk, ride a bike, daydream, draw or whatever you choose. You also do this in silence. People find this silence especially pleasant but also exciting at first. It really works listening to yourself, reaching your own wisdom.
How a mindfulness retreat can help you?
Mindfulness helps you to develop your own consciousness. When you are fully aware of the negative and painful tendencies of the mind, and of your inner processes, they are gradually redressed towards a more positive and harmonious functioning.
When consciousness heals on a deep level, you will find that the following aspects improve:
Thought
Relationship with one's own emotions
Interpretation of events
Reaction to other people's behaviour
Healthier habits
More positive and constructive beliefs
As a result, you become much healthier and happier in all areas of life. Also, you become your own teacher, you teach yourself to be wiser, so there is no limit to how much you want to improve these aspects.