LIBREMOCION Yoga Surf Camp
The Yoga Surf Camp that Libremoción proposes has the main purpose of combining the depth and harmony of Yoga with the fun and freshness of Surfing. For this we have passionate about both disciplines that understand and have integrated the benefits of this curious union. We know that the context of any experience is a fundamental part of it, so we only choose the spaces that really freak us out. Spaces to which we would like to go on vacation forever, where life is breathed and that are run and inhabited by nutritious and inspiring people. As you have imagined, in Libremoción we do not settle in a single Yoga Surf Camp, because our nomadic soul leads us to live surfing with each other to share what we are passionate about in every corner that we are passionate about. The weather is of course something essential, and the union of the good vibes of the yogi social circles with that of the surfer social circles makes these Yoga Surf Camps a perfect ingredient for any experiential recipe. In addition to these practices it is very likely that you will find deep dance, emotional release techniques, meditation, cleansing diets or anything else that personally serves to keep us at ease and on the crest. Click here if you want to know the next Yoga Surf Camp of Libremoción.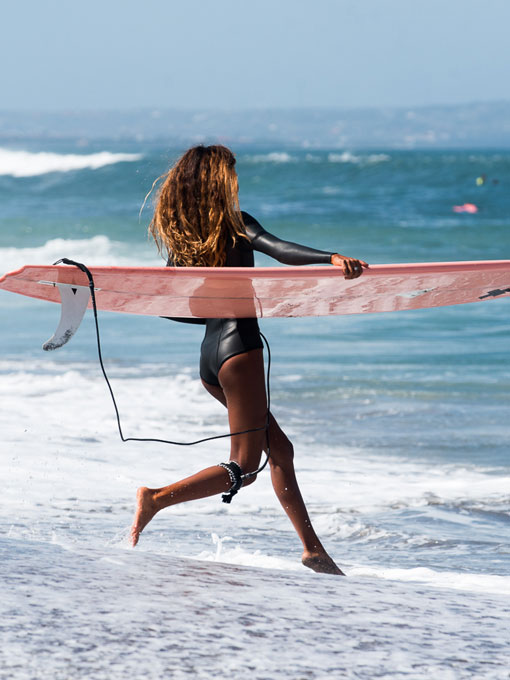 Yoga & Surf
Yoga and Surf are in fact two perfect images of the spirit of Libremocion. On the one hand, it owes its name to emotional liberation, and on the other to freedom of movement (motion). This freedom of vital movement is what has always moved us and given direction. The internal desire to go and be where we want and how we want. We call that Free Flow and for us it is a treasure that we grow from the inside out. Why join Yoga and Surf? Because Surfing has that component of taking what is given to you and using it in your favor to move in joy with it, that point of knowing how to flow and enjoy life. And yoga allows you to deepen that enjoyment and integrate it into your life, in addition to providing balance, concentration, inner peace or physical resistance among others to our practice on the table. But above all, above all, because both disciplines connect us, recharge and passionate. And we can think of few more cool plans to re-join in magical corners, with magical people doing Yoga and Surfing (both magical).
Yoga and Surf Retreat
A yoga and surf retreat is in our eyes a combo of the most top that we can think of. Whether for those who want to learn Surfing, as for those who want to learn Yoga, the option of an intensive course surrounded by people learning at the same time is a laboratory with no option to game over. The mix of levels between the different disciplines allows in turn experienced practitioners of both to exchange information and guide those who are learning. A yoga and surf retreat is on the other hand a unique context to meet interesting people and interested in combining enjoyment and harmony, which is not mucus of turkey hey! And since we are taking advantage to dance or play in Jam beach sessions, to celebrate life with quality music, and to be able to live all this from the internal connection that allows us to wait in peace for the next wave, enjoy the current assana, and experience Life free of anchors. With the understanding and peace that comes from knowing that we too are like waves, which have a changing shape, appear and disappear, but before and after waves, they are water. Water that flows and becomes infinite. We are water, in the form of a wave, in this ocean that life is. Come and feel it with the rest of the waves at the next yoga and surf retreat by Libremocion.

No events available.